Betty Art Book Fair
Childish Books Round Up

Website live through Dec 22nd ︎
www.thebettys.com

by Hannah Coleman
December 20th 2020:
We have been looking forward to the Betty Art Book Fair for months. As an event that centers zines and radical fun, we knew it would be right up our alley. The fair is the culminating project of
The Bettys
, an innovative art community concept founded by Salvadoran-American Aurora Diaz in 2014.
The gorgeous and colorful website, built by
Lucky Risograph
, features four explorable "rooms" to discover the fair's twenty one vendors. We have had the pleasure of browsing the site to bring you our Childish picks below.
1.
Be The Change! A Justseeds Coloring Book
Just Seeds Artist Collective

Published by
Radix Media
Room 1
This coloring book includes artwork from
the
Justseeds Artists' Cooperative
, a decentralized network of 41 artists committed to social, environmental, and political engagement.
Intended for people of all ages, it hopes to invite slowness and celebration through artmaking. "Make the revolution bright, colorful, and irresistible! Together we can be the change we want to see!"
2. Evil Child
Taehee Whang

Published by
Hyperlink Press
Room 1
We are excited to read this 2018 title, by Korean-American interdisciplinary artist Taehee Whang. The book is described as weaving folktales of changelings with Whang's own childhood internet experiences, navigating a "certain queer anxiety."
3. Nonsense
Ruohan Wang
Published by
Draw Down
Room 1
We love the small and easy to handle formats of Draw Down Books. They are great for little hands, and at $5, you don't have to worry if it sees a lot of use and love.
Nonsense
looks full of visual delight, utilizing analog and digital image making techniques, Wang reflects "the small, simple, and nonsensical moments of life."
4. Girls Who Colored Outside the Lines
Summer Dawn Reyes
Nerissa Tutiven
Emily Mun
ArtisticAfro (Hiyasmine Gaskins)
Vanessa Velez
Nala Wu

Published by
In Full Color
Room 1
Designed for young girls of color,
Girls Who Colored Outside the Lines
recognizes the difficulty for nonmajoritarian children to find and learn about historical narratives and voices who represent and reflect their own experiences. The dozens of stories include figures like Maya Angelou, Pura Belpré, Angela Davis, Katherine Johnson, Rita Moreno, Ibtihaj Muhammad, Mithali Raj, Naoko Takeuchi, Kara Walker, Anna May Wong, Holly Woodlawn, and Malala Yousafzai. We love that it also represents a variety of living artists, through illustrations by five womxn of color.
5. A Sashimi Zine
Decue Wu
Published by
In Full Color
Room 2
It was hard to pick just one Little Mountain Press book, as they have many great books at the fair for any Childish readers - be sure to check out all their titles. We choose to feature
A Sashimi Zine
because we love classic zines that take up everyday life, in this case the author's adorable cat. The simplicity of line beautifully renders a circular sleeping white cat, and we can't wait to see the rest!
6. Earth Witch Affirmations
Cenorina Ramirez

Published by
Mi Casita Press

Room 1
We could all use some grounding affirmations this year, as well as a journal to write it all down in. We love the simple illustraions and meaningful handwritten text with phrases includin "anything lost will be replaced by something more profound".
7.
the artsy-craftsy-creative bundle :) sabrina s

Published by Starly Art Studio
Room 2
If you are looking for a great value, this bundle delivers five zines for just $10! The collection hasmuch to offer for Childish readers:
Emotions Are Weird
explores lifes harder to describe feelings "like mush - when you have too many feelings at once and just can't rn".
So You Want to Make a Zine?
looks great for beginner book makers, and if you're worried about making your first zine just read
Artist Insecurities
to find support about dealing with imposter fears in the arts.
8.
Sanctuary Manifesto
Press Press
Published by Press Press
Room 4
Looking for art for a nursery, classroom, or any other type of childish santuary? Check out this incredible manifesto made by publishing initiative Press Press in collaboration with immigrant and immigrant-adjacent voices to question the concept of sanctuary "—what is it, how can it be created, and in turn, also protected?" We wish this adorned our childhood walls and minds, to soak up everyday as we grew. (Luckily we ordered one and plan to do so as we continue to grow up).
9. The Bettys Paper Dolls
Siobhan Gallagher
Published by The Bettys
Room 4
Last but not least we are *in love* with these Art Angel, Art Honey, and Art Hustler paper dolls, complete with face mask, fleetwood mac shirt, body hair, and fresh ink. Swoon.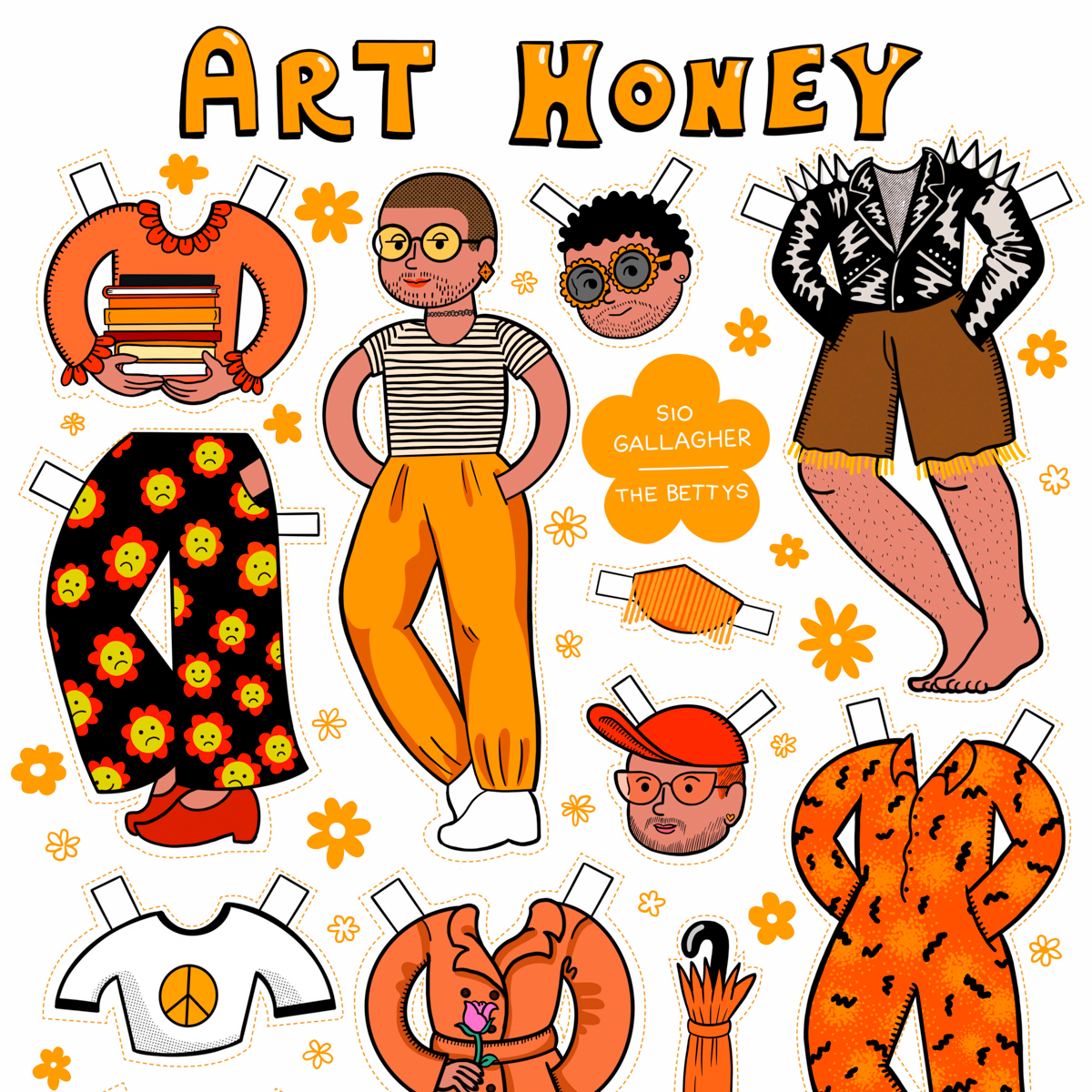 More about The Bettys, from the fair website:
The Bettys has been an outlet for authentic and experimental creative environments. The Bettys has shown at multiple art book|zine fairs across of America, distributing, and collaborating with emerging artists whose intersections make it harder to be in the rich cis-man's world more commonly referred to as 'The Art World.'

www.thebettys.com

© All Copyrights to the listed artists